CORPORATE GOVERNANCE
CORPORATE GOVERNANCE STRUCTURE GLOMA line LOGISTICS WAS BORN FROM THE INTEGRATION OF THE CONTAINER SHIPPING BUSINESSES OF THREE COMPANIES – KAWASAKI KISEN KAISHA, LTD., MITSUI O.S.K. LINES, LTD., AND NIPPON YUSEN KABUSHIKI KAISHA. TRANZ LOGISTICS HOLDING COMPANY, BASED IN JAPAN, OVERSEES THE GOVERNANCE OF OPERATIONAL GLOBAL HEADQUARTERS BASED IN SINGAPORE (GHQ). WITH GHQ, 'S GLOBAL PRESENCE THROUGH REGIONAL OFFICES, BRANCHES, SUBSIDIARIES AND JOINT-VENTURES WILL SPAN ACROSS MORE THAN 120 COUNTRIES AND GHQ OVERSEES THE GOVERNANCE WITH DELEGATION TO REGIONAL HEADQUARTER(RHQ) BASED IN HONG KONG, SINGAPORE, LONDON, U.S.A AND BRAZIL.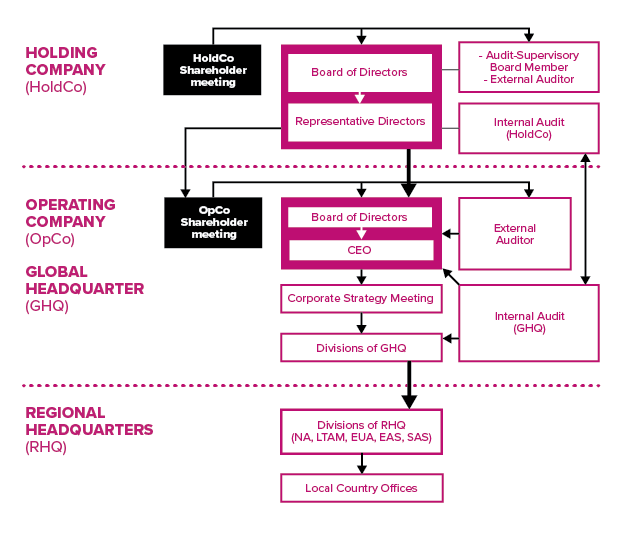 SUPPLY CHAIN MANAGEMENT POLICY
Global Line Logistics (Global logistics) recognizes the importance in establishing mutual trust and harmony with our business partners, who are essential to our business network. To accomplish a high service level, we aim to serve our customers with enhanced efficiency, compliance and integrity. We request the agreement and observance of "Global logistics's Supply Chain Management Guideline" to support our efforts of fulfilling Global logistics's corporate social responsibility (CSR) project.
TAX PRINCIPLE
As tax laws and regulations are evolving and becoming more complex, the risk of unintentional compliance breaches is significantly increasing https://glomalogistic.com/ is committed to ensuring compliance with local requirements and working towards tax transparency and disclosure.
Global Line logistics does not condone the behaviour of profit shifting with a tax avoidance intent to minimize its tax obligation and commits to be a responsible taxpayer in all relevant countries. As a starting point, our tax department will conduct a research study in view of analysing local tax laws and reporting requirements in various countries where Global Line logistics may operate. This study will help us prepare for our country-to-country reporting to local tax authorities in accordance with the OECD's Base Erosion and Profit Shifting project. Global tax policies and an internal control framework will be developed by April 2018, following our commitment to comply with tax laws and regulations in each jurisdiction. Global Line logistics will therefore formalize the approach it will take to carry out its tax planning strategy without compromising the integrity of its corporate governance and tax morality. Tax matters will be monitored by our tax department at our global headquarters which also manages country and regional tax departments
COMPLIANCE FRAMEWORK
Reliability is one of Global Line logistics's core values and we are committed to carry out our business in a reliable manner. All directors, managers and employees adhere to Global Line logistics's Business Credo and Code of Conduct which includes our pledge to work in accordance with the law and social ordinances as an absolute obedience.
The Compliance Committee, held twice a year, establishes Global Line logistics's compliance framework and is the driver for solidifying the culture of compliance in Global Line logistics Group chaired by Chief Compliance Officer and attended by Directors, senior management, and department heads. It determines actions required to establish, monitor and further enhance Global Line logistics's compliance initiatives. The Committee is designed and run for each department in charge to take responsibility of its compliance including the monitoring and work as one team to tackle challenges as an organization.
A global hotline system has been set up for early detection of the concurrent issues, and so to receive whistleblower reports and provide immediate consultation on various matters related to compliance.
BRIBERY AND CORRUPTION
As elaborated in Global Line logistics's Basic Anti-Bribery Policy, all directors and employees – whether directly or through third parties – are prohibited from engaging in any form of corrupt practice, including bribery and extortion.